Kelly Sheehan is a lifelong artist from Toledo Ohio.  She has studied and produced art from an early age.  Intrigued by all art forms, she has created pieces in oil painting, water color, charcoal, pencil, ceramics, welding, quilting, sculpture and print making.  Her specialties, though, are glass making and pastels.  Even within glass making she has created pieces in many art forms including hot glass, warm glass (slumping fusing and kiln fired), murrini role ups, sculpting, etched and sandblasted  and casting.  She is most known for her painting on glass using vitreous enamels, an old European art form that she uses to bring life to glass objects she creates.  She uses the direct application method (mostly reversed painted) as well as the grisaille method.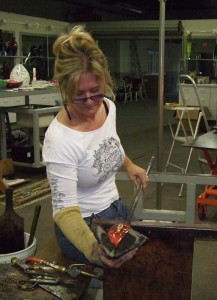 When not creating art, she is constantly studying and teaching it.  After receiving her degree from Bowling Green State University in Art Education, Kelly has taught many art forms to elementary school children, adults and especially to outreach programs involving at risk adolescents.  She has been a member of the teaching staff at the Toledo Museum of Art's Glass Pavilion and an instructor in the Museum's education program.  She has been a docent at the Toledo Museum of Art for many years and is the retired Director of The Blair Museum of Lithophanes at the Toledo Botanical Gardens.
She has won a number of awards, primarily in glass and her works are featured in a number of corporate, civic and personal collections.
Kelly is the owner of Kellfire Glass and continues to create glass art at the Toledo Museum of Art Glass Pavilion and in her studio in suburban Toledo.  She also creates her pastels from her studio.